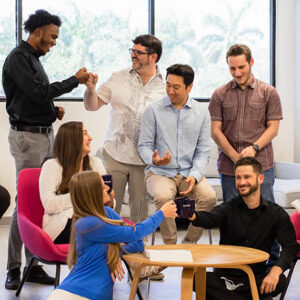 Two full scholarships are awarded annually by MediaOps to support diversity in the local IT talent pool and create a more inclusive tech industry
Boca Raton, FL, September 14, 2021 — MediaOps, the place to tell your story in the most  powerful way, has again teamed up with Boca Code to award its Engineer the Change scholarship to  Alina Maliuk, a first-generation immigrant from Ukraine. The scholarship was initiated by MediaOps to  help foster diversity in the local tech industry and empower individuals from underserved communities  to develop the skills needed to succeed in IT. Boca Code offers comprehensive training in software  development for adults.  
MediaOps sponsors two scholarships annually for Boca Code students. The scholarships, each  valued at $10,000, enable students to enroll in Boca Code's flagship Software Engineering Career  Course, a 10-week rigorous and fast-paced coding bootcamp. The course combines theory and  hands-on, project-based learning to prepare students for a career in software engineering. As part of  their coursework, students take on development projects for local businesses, providing the students  immediate, hands-on experience with real projects. 
"The 'Engineer the Change' scholarships combine two goals that are core to the MediaOps team and  to me personally. The first is doing our part to enable South Florida to be a world-class region for the  tech industry. The second is providing opportunities for individuals from disadvantaged communities  
to acquire the skills they need for a successful career in tech," said Alan Shimel, CEO and founder,  MediaOps. "We hope to serve as an inspiration to other local companies to fund similar programs in  support of these worthy goals." 
The scholarship will be awarded for the Fall 2021 term to Maliuk, who came to the United States from  Ukraine in 2012. While in Ukraine, she received a bachelor's degree in management. After college, she was married and gave birth to her first son. During her maternity leave, her family emigrated to New York. As first-generation immigrants, they had to start their new lives from scratch. For the first few years in the United States, Maliuk and her family worked in entry-level jobs. In 2018, now a mother of two, Maliuk took several online classes in web development and rediscovered her love of learning—particularly software development. Now a resident of Boca Raton, Maliuk found Boca Code and attended a workshop in web development. 
"Boca Code's workshop in web development was energizing and furthered the learning I had already  started on my own. Through that initial course, the Boca Code team inspired me to go even further. I  am ready to move onto my next chapter and I would like that to be a career in software engineering,"  said Maliuk. "Thanks to the Engineer the Change scholarship, I now have this amazing opportunity to  
accelerate my tech career. I will give back by showing other female immigrants of the Russian speaking community in Florida that if you can dream it and work hard to achieve it, you can make it  happen." 
Research shows a staggering lack of diversity in STEM fields, most noticeably within computer and  engineering positions. It is a glaring workforce disparity that requires both recognition and  responsibility from those at the highest levels in the tech world to create a more diversified and  equitable workforce.  
"We are so pleased to partner with companies like MediaOps. Alan and his team recognize the value  of fostering a strong tech community here in South Florida and providing opportunities for minorities to  develop tech skills," said Todd Albert, Founder and Lead Instructor, Boca Code. "Like MediaOps,  Boca Code also wants to help enable diversity and inclusivity within the tech industry. Our partnership  shows what industry and education can achieve together to make this happen. The Engineer the  Change scholarship is a shining example of empowering minorities within the South Florida IT  community to grow their technical skills and build careers." 
Scholarship applicants that didn't win the Engineer the Change scholarship were awarded Boca  Code's own Diversity in Tech Scholarship worth $2,600. 
Additional Resources 
Learn more about the Engineer the Change scholarship and how to apply

Read the blog from MediaOps Founder Alan Shimel about the Engineer the Change

scholarship

Discover the Boca Code Software Engineering Career Course

Learn more about MediaOps
About MediaOps
MediaOps, the place to tell your story in the most powerful way, is an omniversal media company  covering IT industries and practices that are reshaping the world of technology, including DevOps,  cloud-native, cybersecurity and digital transformation. Through a convergence of new media  distribution platforms, we deliver the experiential stories IT professionals need to gain fresh insights  and learn new skills. For marketing partners, MediaOps delivers unparalleled access to inform and  engage with a highly involved IT community for thought leadership, demand generation and  specialized campaigns. MediaOps is not only the most trusted name in technology media, but the  most loved as well. 
About Boca Code 
Boca Code offers adults comprehensive training in software development using real projects for real  companies to best prepare you for and help place you in a career in the tech industry. For more  information, visit https://bocacode.com/ 
###
Contacts 
MediaOps
Heidi Gilmore
Boca Code 
Dr. Todd Albert