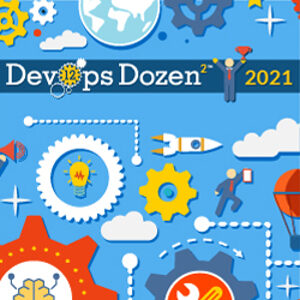 Techstrong Group announced the recipients of the seventh annual DevOps Dozen² Awards in recognition of the winners' exceptional contributions to the DevOps community.
Boca Raton, FL, January 19, 2022— Techstrong Group, the power source for people and technology, has published the list of honorees for the 2021 DevOps Dozen² Awards. The DevOps Dozen² Awards celebrates the most innovative and influential individuals and companies and honors their remarkable achievements and commitment to the DevOps community.
This year's DevOps Dozen² Awards included 24 award categories, divided equally into two main sections: DevOps Dozen Community Awards and DevOps Dozen Tools and Services Awards.
The DevOps Dozen² honorees are the most outstanding DevOps, cybersecurity, cloud and digital transformation leaders who have worked tirelessly to achieve their goals and to turn adversity into opportunity. These leaders are driving their business forward while revolutionizing the industry in the process.
"I am very proud to be a part of such a dedicated community overflowing with ambitious and talented leaders that are shaping the future of tech. Each of the DevOps Dozen² honorees represents the best of the best in the industry," said Alan Shimel, CEO of Techstrong Group. "Congratulations to all the honorees, and to the finalists. Thank you for demonstrating exceptional leadership, determination and service to our community."
Here are the names of the 2021 DevOps Dozen² Awards honorees:
DevOps Dozen Community Awards
Best DevOps Industry Implementation
City of Gainesville/Gainesville Regional Utilities
Best DevOps Survey/Analysis/Research
Best DevOps Related Video Series (Video)
DevOps Series (DevOps for IBM Z Media Center)
Best DevOps Related Podcast of the Year (Audio Only)
The POPcast, hosted by Dan "Pop" Papandrea
Best DevOps Books / eBook of the Year
A Beginner's Guide to Observability by Splunk
Top DevOps Evangelist
Best DevOps Transformation (Non-Vendor)
Best DevOps Virtual Event of the Year
Most Innovative DevOps Open Source Project
DevOps Executive of the Year
Best DevOps Presentation of the Year
The Value of DevOps Transformation in the Digital Enterprise by Rosalind Radcliffe (IBM) and Mark Howell (Lloyds Banking Group)
Best DevOps.com Article of the Year
Measuring Value Streams by Analyzing Flow Metrics by Jeff Keyes
DevOps Dozen Tools and Services Awards
Best End to End DevOps Tool/Service
Best DevOps Repo/GitOps Tool/Service
Best CI/CD Tool
Best Value Stream Management Tool
Best Observability Solution
Best DevSecOps Solution
Best Testing Service/Tool
Best Kubernetes Platform/Service
Best Cloud Native Security Solution/Service
Best DevOps for Mainframe Solution
Best DevOps for DataOps/Database Solution
The BMC AMI SQL Performance for Db2® Solution
Best New DevOps Tool/Service Provider
Winners were chosen from among the finalists with public voting accounting for 40% of the final total and our judges' selections accounting for 60% of the weighted total.
The DevOps Dozen² Award winners will receive both digital and physical trophies and badges celebrating their achievements.
For more information about the awards and each category, please visit the DevOps Dozen² Awards website. For information regarding the entry process, awards or timing, please contact us at [email protected].
About Techstrong Group
Techstrong Group is the power source for people and technology. Techstrong accelerates understanding of technologies that drive business. With a broad set of IT-related communities and offerings, Techstrong is the only media company serving the needs of IT leaders and practitioners with news, research, analysis, events, education, certifications and professional development. Our focus is digital transformation, DevOps, cybersecurity, cloud and cloud-native. Techstrong Group business units include: Techstrong Media, Techstrong Research and Techstrong Live!. For technology providers, Techstrong business units offer many ways to reach IT professionals and tell their story.
Techstrong Group is based in Boca Raton, Florida. For more information, visit us on the web and follow us on Twitter, LinkedIn, Facebook, Instagram.

###
Rose Watson
Promotional Marketing Manager
Techstrong Group
[email protected]