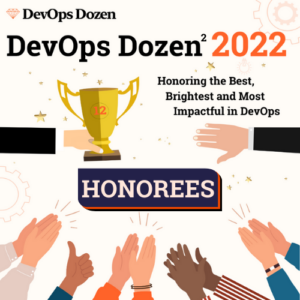 Techstrong Group announced the recipients of the eighth annual DevOps Dozen² Awards and recognized the winners' exceptional contributions to the DevOps community.
Boca Raton, FL, January 12, 2023 — Techstrong Group, the power source for people and technology, has published the list of honorees for the DevOps Dozen² 2022 Awards. The DevOps Dozen² Awards celebrates the most innovative and influential individuals and companies and honors their remarkable achievements and commitment to the DevOps community.
For the fourth year in a row, the awards program included 24 award categories, divided equally into two main sections: DevOps Dozen Community Awards and DevOps Dozen Tools and Services Awards.
The DevOps Dozen² honorees are the most distinguished DevOps, cybersecurity, cloud-native and digital transformation leaders whose accomplishments and achievements have made significant contributions to the DevOps community. These leaders are driving their businesses forward and revolutionizing the industry in the process.
"We are proud to recognize these outstanding leaders for their groundbreaking efforts in the DevOps community," said Techstrong Group CEO Alan Shimel. "These companies and individuals have made a significant impact on the tech industry through their leadership, innovation and determination. Congratulations to all those nominated and to the honorees. Thank you for your hard work and service to our community!"
Here are the DevOps Dozen² 2022 honorees:
DevOps Dozen Community Awards
Best DevOps Industry Implementation
OJA DevOps Transformation and Implementation

Best DevOps Survey/Analysis/Research
GitLab 2022 Global DevSecOps Survey
Best DevOps Related Video Series
Best DevOps Related Audio Podcast Series
Best DevOps Book / eBook of the Year
Top DevOps Evangelist
Best DevOps Transformation (non-vendor)
Natura Cloud & DevOps Center of Excellence
Best DevOps Event of the Year
Most Innovative DevOps Open Source Project
DevOps Executive of the Year
Best DevOps Presentation of the Year
Journey from 100's of Pipelines to a Single Pipeline Ecosystem by Ali Ravji and Prashant Parekh
Best DevOps.com Article of the Year
DevOps Dozen Tools and Services Awards
Best End-to-End DevOps Tool/Service
Harness Software Delivery Platform
Best DevOps Repo/GitOps Tool/Service
Best CI/CD Tool
Best Value Stream Management Tool
Best Observability Solution
Best DevSecOps Solution
Veracode Continuous Software Security Platform
Best Testing Service/Tool
Best Kubernetes Platform/Service
Best Cloud-Native Security Solution/Service
Best DevOps for Mainframe Solution
Best DevOps for DataOps/Database Solution
Best New DevOps Tool/Service Provider
BMC Compuware zAdviser DORA Metrics Dashboard
The DevOps Dozen² Awards winners will receive both digital and physical trophies and badges celebrating their achievements.
For more information about the awards and each category, please visit the DevOps Dozen² Awards website.
About Techstrong Group
Techstrong Group is the power source for people and technology. Techstrong Group accelerates understanding of technologies that drive business. With a broad set of IT-related communities and offerings, Techstrong Group is the only media company serving the needs of IT leaders and practitioners with news, research, analysis, events, education, certifications and professional development. Our focus is digital transformation, DevOps, cybersecurity, cloud and cloud-native. Techstrong Group business units include: Techstrong Media, Techstrong Associations, Techstrong Research, Techstrong Learning and Techstrong Live!. For technology providers, Techstrong business units offer many ways to reach IT professionals and tell their story.
Techstrong Group is based in Boca Raton, Florida. For more information, visit https://techstronggroup.com and follow us on Twitter, LinkedIn and Facebook.
###
Andre Pino
Chief Marketing Officer
Techstrong Group
[email protected]