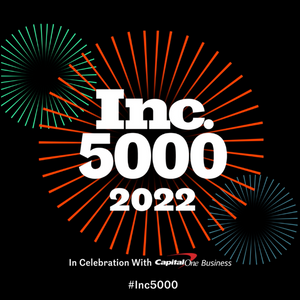 Techstrong Group Continues Rapid Pace of Growth Focusing on Digital Transformation, DevOps, Cybersecurity and Cloud Native Communities
Boca Raton, FL, August 16, 2022 – Techstrong Group, the power source for people and technology, today announced it has been named to the Inc. 5000 list of America's fastest growing private companies for the third consecutive year. 
The list represents a one-of-a-kind look at the most successful companies within the economy's most dynamic segment—its independent businesses. Facebook, Chobani, Under Armour, Microsoft, Patagonia and many other well-known names gained their first national exposure as honorees on the Inc. 5000.
Techstrong Group is an omniversal media company covering news about IT industries and practices that are re-shaping the world of technology such as: DevOps, cloud-native, cybersecurity and digital transformation. Techstrong Group partners gain access to a highly-involved IT community to inform and engage with them through thought leadership, demand generation and specialized campaigns.
"All of us at Techstrong are honored to once again be an Inc. 5000 organization. To achieve this honor for three years running is truly a testament to the great people and team we have at Techstrong Group. I am proud of what this accomplishment means and grateful to our people, our sponsors and our community for allowing us to achieve this level of distinction," said Alan Shimel, founder and CEO at Techstrong Group. "We will take a quick minute to bask in the limelight of this honor and then it is back to business for us, as today's economy demands that we continue innovating and performing."
The companies on the 2022 Inc. 5000 have not only been successful, but have also demonstrated resilience amid supply chain woes, labor shortages and the ongoing impact of Covid-19. Among the top 500, the average median three-year revenue growth rate soared to 2,144 percent. Together, those companies added more than 68,394 jobs over the past three years.
In addition to rapidly expanding its team and revenue, Techstrong Group continues to grow as a leading technology content and information driver through the convergence of multiple media distribution platforms including:
DevOps.com


DevOps.com is an indispensable resource for DevOps education and community building. Its mission is to cover all aspects of DevOps—philosophy, tools, business impact, best practices and more. DevOps.com features the largest collection of original content related to DevOps in the form of in-depth features, bylined articles, blog posts and breaking news about the topics that resonate with IT readers interested in DevOps.




Learn more about DevOps.com (

https://devops.com/

).

Security Boulevard


Security Boulevard's mission is to serve security and related communities by providing a single destination for information, education and discourse on the leading topics and issues facing security and IT communities today.




Learn more about Security Boulevard (

https://securityboulevard.com/

).

Container Journal


Container Journal's mission is to become an indispensable resource for education and information around container-related computing, education and community building. Our mission is to cover all aspects of containers—philosophy, tools, business impact, best practices and more.




Learn more about Container Journal (

https://containerjournal.com/

).

Digital CxO


Digital CxO is the premier destination site and community dedicated to fostering collaboration among business and IT leaders driving digital transformation initiatives. Digital Cxo is host to articles, video conversations, podcasts and unique research, all designed to provide thought leadership and unique perspectives on technology's impact on business acceleration.




Learn more about Digital CxO (

https://digitalcxo.com

).

Techstrong TV


Techstrong TV is a groundbreaking video platform featuring high-quality, engaging content related to all things IT and tech. Techstrong TV offers video production and distribution, as well as sponsorship.




Learn more about TechstrongTV (

https://techstrong.tv/

).

Techstrong Research


Techstrong Research is out to democratize access to industry expertise and knowledge. The company's analysts offer insightful, intelligent and useful information in a variety of formats relevant to the IT community including: research reports, assessments, digital events, videos, workshops and implementation projects with tech vendors, IT organizations and business leaders.




Learn more about Techstrong Research (

https://techstrongresearch.com

).

Techstrong Live!


Techstrong Live! is a multi-faceted events business serving our communities and providing technology trends, knowledge, strategic and pragmatic insights and thought leadership through multiple formats, including in-person, virtual and hybrid conferences; webinars; seminars; and workshops.




Learn more about Techstrong Live! (

https://www.techstrongevents.com

).

Techstrong Learning


Techstrong Learning provides unique educational experiences by connecting technology vendors with the IT communities that we serve.
"The accomplishment of building one of the fastest-growing companies in the U.S., in light of recent economic roadblocks, cannot be overstated," says Scott Omelianuk, editor-in-chief of Inc. "Inc. is thrilled to honor the companies that have established themselves through innovation, hard work, and rising to the challenges of today." 
Complete results of the Inc. 5000, including company profiles and an interactive database that can be sorted by industry, region and other criteria can be found at www.inc.com/inc5000. The top 500 companies are featured in the September issue of Inc. magazine, which will be available on August 23.
About Inc. 
The world's most trusted business-media brand, Inc. offers entrepreneurs the knowledge, tools, connections and community to build great companies. Its award-winning multiplatform content reaches more than 50 million people each month across a variety of channels including websites, newsletters, social media, podcasts and print. Its prestigious Inc. 5000 list, produced every year since 1982, analyzes company data to recognize the fastest-growing privately held businesses in the United States. The global recognition that comes with inclusion in the 5000 gives the founders of the best businesses an opportunity to engage with an exclusive community of their peers, and the credibility that helps them drive sales and recruit talent. The associated Inc. 5000 Conference & Gala is part of a highly acclaimed portfolio of bespoke events produced by Inc. For more information, visit www.inc.com.
For more information on the Inc. 5000 Conference & Gala, visit http://conference.inc.com/.
About Techstrong Group
Techstrong Group is the power source for people and technology. Techstrong accelerates understanding of technologies that drive business. With a broad set of IT-related communities and offerings, Techstrong is the only media company serving the needs of IT leaders and practitioners with news, research, analysis, events, education, certifications and professional development. Our focus is digital transformation, DevOps, cybersecurity, cloud and cloud-native. Techstrong Group business units include: Techstrong Media, Techstrong Associations, Techstrong Research, Techstrong Learning and Techstrong Live!. For technology providers, Techstrong business units offer many ways to reach IT professionals and tell their story.
Techstrong Group is based in Boca Raton, Florida. For more information, visit https://techstronggroup.com and follow us on Twitter, LinkedIn and Facebook.
###
Contact
Veronica Haggar
[email protected]